Welcome to our website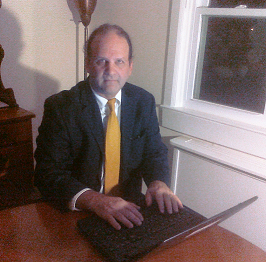 Thank you for visiting my web page. Let me give you some basic information about my background and what I do.
I am a lawyer licensed to practice in the State of New Jersey since 1990 from my office, Jamie Epstein, Attorney at Law, which is located in Cherry Hill, Camden County, New Jersey. Although I serve students throughout the entire State of New Jersey, most of them attend schools in Southern New Jersey with the majority in Burlington County, Camden County, Gloucester County and Mercer County (Did you know Jamie Epstein's Mercer County Office is right around the corner from the New Jersey Office of Administrative Law in Mercerville, NJ? If you are there without a lawyer and the Judge says, "you need a lawyer", you can tell the Judge, "can we take a break so I can make a call?" Then you can come back from the break with me.).
My practice primarily involves the representation of students and their families who have had their regular education, special education or higher education law rights violated. This also includes civil litigation for students who have been discriminated against, injured or bullied. I have made numerous appearances before school boards and administrative, state and federal trial and appellate courts.
My policy is, for most cases, to only require my client make an initial contribution towards my attorney's fees if the clearly violated law calls for the payment of their fees be shifted to the school or other type of defendant. This is in furtherance of my philosophy that my client's access to the justice system should not be impaired by their financial status.
In addition to my current practice in education law and civil litigation, I practiced for many years in Family Law, which included abuse and neglect, child custody and juvenile proceedings.
Before I became a lawyer, I worked for about 15 years in the education field; first providing educational services to children, then as chairperson of an interdisciplinary team responsible for the development and implementation of individual habilitation plans for handicapped individuals and lastly as managing director of a New Jersey Office of Special Education approved agency providing therapy services to handicapped children through school district child study teams.
I have a B.S.W. and Certificate in Child Care with honors from Temple University, a Masters in Management with honors from Central Michigan University, and a Juris Doctorate from Rutgers University.
The other pages on my website will provide you with testimonials from my clients, links to some of my cases that have been published by the courts and in the media and basics about education law, directions to my office location and a link to email me with any questions or comments.